Carolina Anemone Scavenger Hunt BioBlitz
Saturday, March 23rd, 10am – 2pm
Mansfield City Cemetery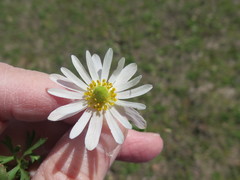 Image by @suz Suzette Rogers
The spring flowers are starting to bloom across Texas and we need your help to find and document a not-so-common species of Anemone, Anemone caroliniana, or the Carolina Anemone. The Anemone North Texans might be most familiar with, A. berlandieri, is known by the common names Tenpetal Anemone and Windflower. Both species grow side-by-side and look alike at first glance, so the Carolina Anemone often gets overlooked. In fact, only 5 DFW locations have been documented on iNaturalist!
Come join us on Saturday, March 23rd at 10am at the Mansfield City Cemetery (a documented location) to learn what to look for and participate in a Scavenger Hunt BioBlitz where we will visit other nearby locations looking specifically for the Carolina Anemone. (Bring a sack lunch with you, too!) Afterward, we will be looking for volunteers to visit locations throughout DFW during the spring blooming period to find as many new locations as we can!
For more information, contact @pfau_tarleton or @kimberlietx. And please tag anyone that you think might be interested!