In the early 1990s, when I should have been sitting in my college classes, I was usually out in the rural areas and swamps of Georgia, Florida and the Carolinas flipping pieces of tin and digging through piles of debris hoping to find snakes. Reptiles became a lasting interest, and much of what drew me to the Okefenokee Swamp in first place. Twenty years later I'm back in the Okefenokee with my daughter. Thankfully she shares her dad's love of snakes and is always hopeful for a reptile find as well!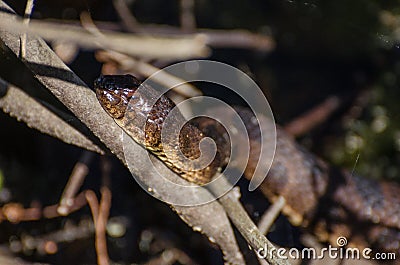 © Photographer: William Wise | iNat Observation: 29977854
On our 2015 trip, we weren't disappointed as we quickly came across a Brown Watersnake along the swamp boardwalk in the Stephen C Foster State Park. I'm not sure how we spotted this perfectly camouflaged dark, black and brown snake laying in the dark water choked with brown leaf litter. There are several species of Nerodia found in the Okefenokee. I usually recognize N. taxispilota by the squarish blotches that run in equal spacing down its back, cady-corner with the patches that run alternatingly down each side.
~~ Do you love the Okefenokee? Join the iNat Okefenokee Photography Project and follow the Okefenokee Photography blog. If you have an Okefenokee blog post or journal, message me the URL through my iNat profile page and I'll post it in the project. Thanks for contributing and for be a lover of this great piece of earth, the Okefenokee Swamp! William
Lähettänyt

williamwisephoto
, 16. syyskuuta 2020 22:21